Volvo Photo Locations Part 50


Svinö is an island and a nature reserve in Kalmar municipality in Småland.
The area has been protected since 1974 and is 120 hectares in size, of which 70 hectares are water areas. It is located east of the city ​​of Kalmar at the western stronghold of the Öland Bridge.
Svinö is a low island built of moraine in Kalmarsund overgrown with coniferous mixed forest. On the island there is a layer of beach gravel thrown up from the sea. In the east more humid. The island is largely overgrown with pine and spruce. Along the island's shores are meadows with rich flora. Clover peas, sea urchins, sea urchins, meadowsweet and thrips grow there, among other things. The bird fauna consists of waders, ducks and ducks, of which the most common species are gulls, mallards, shorebirds, bearded vultures and coyotes. In the forest, finches, songbirds, great tit, red robin, kingfisher, blackbird, woodpecker and blue tit have been noted.
There are several bathing places on the island, which is partly under the Öland Bridge. The island is an important walking and exercise area for the people of Kalmar.
In the northeastern part, there are remains of Svinö skans that were used to defend and master the sailing route through Kalmarsund.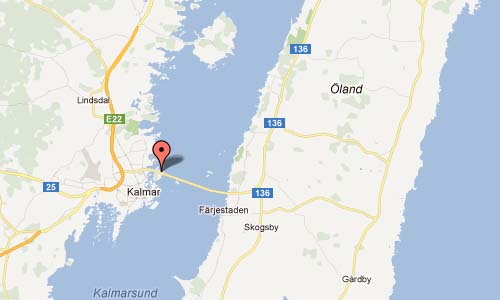 More information at sv.wikipedia.org.