International Volvo Photo Locations Part 30


Negresco Hotel Nice mixes old-world elegance and contemporary artistry to provide a luxury haven for business and leisure travellers heading to Nice. Nearby attractions such as the panoramic city views at Le Chateau and the charming Jardin de l'Armente offer numerous activities for leisure. Tourists can also learn more about France's history and culture at Matisse Museum and Nice Archaeology Museum and Roman Ruins three kilometres away.
Set close to the pristine beach in Promenade des Anglais, Negresco Hotel is ideally situated overlooking the great Mediterranean Sea in the beautiful city of Nice. Notable landmarks such as Port of Nice and Square Colonel Jean Pierre are found nearby.
The property offers 94 rooms and 31 suites are individually decorated to deliver Art Deco appeal. Modern amenities such as LCD TV, Wi-Fi access and cosy bed are included in each accommodation unit.
Guests can enjoy sumptuous a la carte dishes and mouth-watering desserts at Chantecler or wine and dine with cocktails and delicious treats offered at Le Relais and La Rotonde at Negresco Nice Hotel.
Guests can host their next corporate and social event at any of Negresco Hotel Nice's nine posh reception rooms capable of accommodating up to 600 persons. The hotel also offers limousine and helicopter transportation as well as leisure facilities such as golf, tennis and massage treatments.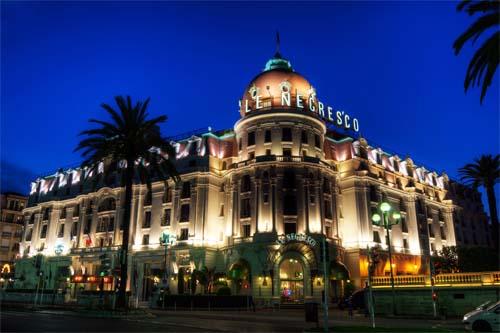 More information on www.hotel-negresco-nice.com