International Volvo Photo Locations Part 32


Route 30 Classics on 1100 1st Avenue in Mosier, Oregon is a Porsche 356, 911, 914 automotive archeologist.
Constantly searching for classic Porsches and parts that have been lost in the past, making them available to the enthusiast today.
The owner was transporting Porsches from the mid-west to California in the early 70's. Route30Classics was established in 1985 with the manufacturing of the 935 type race mirrors and a 50's style Speedster head rest cowling.
In addition to their inventory, they are connected to many international collectors and dealers to help us locate whatever is needed. They can also help to locate the classic Porsche of your dreams in what your price range may be.
Or, just stop by for an ice cream, or espresso in the adjoining Route30Roadside Refreshments. All located in one building over looking National Scenic Highway "Route 30", and the Columbia River, in the Columbia Gorge.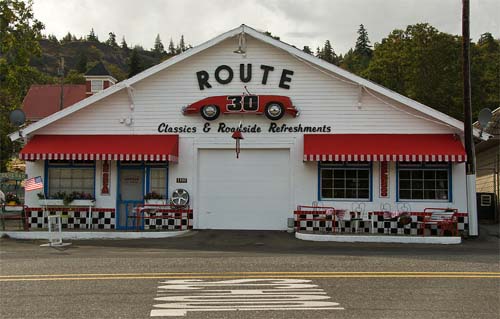 In the U.S. state of Oregon, U.S. Route 30, a major east–west U.S. Highway, runs from its western terminus in Astoria to the Idaho border east of Ontario. West of Portland, US 30 generally follows the southern shore of the Columbia River; east of Portland the highway has largely been replaced with Interstate 84, though it is signed all the way across the state, and diverges from the I-84 mainline in several towns, as a de facto business route. (The state of Oregon does not sign Interstate business routes; instead it uses the designations US 30 and Oregon Route 99 (along the Interstate 5 corridor) for this purpose.)
The Columbia River Gorge is a canyon of the Columbia River in the Pacific Northwest of the United States. Up to 4,000 feet (1,200 m) deep, the canyon stretches for over 80 miles (130 km) as the river winds westward through the Cascade Range forming the boundary between the State of Washington to the north and Oregon to the south.
Extending roughly from the confluence of the Columbia with the Deschutes River down to eastern reaches of the Portland metropolitan area, the gorge furnishes the only navigable route through the Cascades and the only water connection between the Columbia River Plateau and the Pacific Ocean.
The gorge holds federally protected status as a National Scenic Area called the Columbia Gorge National Scenic Area and is managed by the Columbia River Gorge Commission and the US Forest Service. The gorge is a popular recreational destination.
More information on www.route30classics.com and en.wikipedia.org or en.wikipedia.org/ Route_30.