International Volvo Photo Locations Part 76


The Mesquit Street is a street in downtown Los Angeles, USA near the East 6th Street with the famous Sixt Street Viaduct.
The Sixth Street Viaduct is a viaduct bridge that connects the downtown and Boyle Heights areas of Los Angeles, California. It spans the Los Angeles River, the Santa Ana Freeway (US 101), and the Golden State Freeway (I-5), as well as Metrolink and Union Pacific railroad tracks and several local streets. The viaduct is composed of three independent structures: the reinforced concrete west segment, the central steel arch segment over the river, and the reinforced concrete east segment.
In 1986, the Caltrans bridge survey found the 6th Street Viaduct eligible for inclusion in the National Register of Historic Places.
During the construction of the viaduct, an on-site plant was used to supply the concrete for construction. However, the quality of the concrete turned out to have a high alkali content and lead to an alkali-silica reaction which creates cracks in the concrete and saps the strength of the structure.
Estimates are that the viaduct has a 70% probability of collapse due to a major earthquake within 50 years. It is one of the only historic LA River bridges to suffer from ASR (alkali-silica reaction).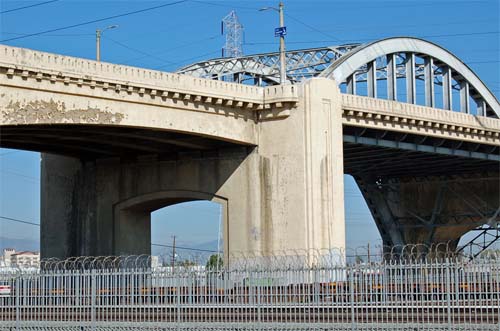 This bridge is seen a lot in many films (To Live and Die in L.A., Grease, Terminator 2 & 3, Repo Man etc), music videos (Madonna video for What It Feels Like For A Girl single, INXS video for Afterglow, Kanye West video for Jesus Walks, Chris Brown video for Deuces, Cheryl Cole video for "Call My Name" to name a few) and tv shows (Lost episode of Through the Looking Glass, 24 – Season 3 – Episode 22, Hunter – season 7 episode, L.A. Heat episode "Little Saigon" and Melrose Place – Pilot).
Since the 80-year-old viaduct is dying from the inside due to a chemical reaction in the concrete called Alkali Silica Reaction, the city of Los Angeles has decioded to replace the bridge with a new one.
The "infrastructure" firm HNTB has won the city's international design competition for the new bridge that will replace the decaying concrete 6th Street Viaduct over the Los Angeles River. "The new 6th Street Bridge will be a world-class, iconic piece of Los Angeles infrastructure because of this international design competition and the community's involvement every step of the way," Mayor Antonio Villaraigosa says in a statement. "Los Angeles is where the world creates and innovates, and the selection of HNTB as the winning team reaffirms our ability to cultivate and attract the best and brightest in architecture, design, and engineering right here in Los Angeles." Villaraigosa and Councilman Jose Huizar had a media event out at the bridge this morning.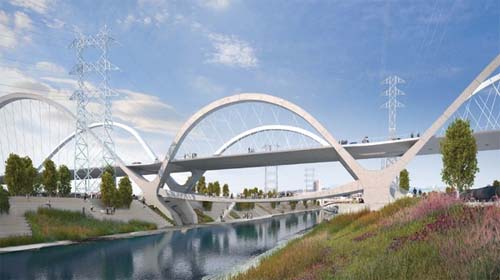 Construction of the new 6th street bridge is planned for 2015 and should be finished in 2018.
More information at /en.wikipedia.org, www.laobserved.com and blogdowntown.com