International Volvo Photo Locations Part 103


Avinguda Diagonal is the name of one of Barcelona's broadest and most important avenues. It cuts the city in two, diagonally from west to east (by Barcelona's compass), hence the name.
It was originally projected by engineer and urban planner Ildefons Cerdà as one of the city's wide avenues, which along with Avinguda Meridiana would cut the rationalist grid he designed for l'Eixample (Catalan for extension). Both would meet at Plaça de les Glòries Catalanes, which Cerdà envisioned as the new city centre. However, Plaça Catalunya, equally a new addition to the city of Barcelona, and connecting Ciutat Vella and Eixample, and therefore occupying a more privileged position in the urban area, would finally become the centre. Avinguda Diagonal remains to this day a much-transited avenue and many companies and hotels use it as a privileged location, as can be seen in its architecture.
The avenue starts in the Sant Martí district, next to Ronda del Litoral, bordering Sant Adrià de Besòs, and crosses the city, finally meeting the Lleida-Madrid highway and Ronda de Dalt, by Esplugues de Llobregat, in Les Corts. It is consistently 50 meters wide and about 11 kilometers long.
Avinguda Diagonal suffered several attacks by the Basque separatist organisation ETA in 2000. On November 2, a car bomb exploded injuring a security officer and a municipal officer. A few days later, on November 21, a car used by the killers of Enerst Lluch exploded in the middle of the avenue. On December 20 a municipal officer was shot dead.
Four venues in the area hosted competitions for the 1992 Summer Olympics.
During 2010, Diagonal reform proposals were on the headlines, as the Barcelona city council had plans to make the tram cross the whole avenue. A popular consultation (the word referendum being banned by Spanish law) was scheduled for May 2010 between two reform proposals, the so called rambla or boulevard. It resulted in a big political failure for the city mayor, Jordi Hereu. There was a bare participation of 12% of potential voters, and about 80% voted for the third option none of the former two, that is, against any change.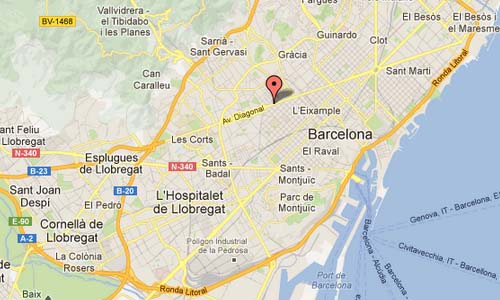 More information at en.wikipedia.org