International Volvo Photo Locations Part 114


Ekeberg is a hill and a neighborhood in the city of Oslo, Norway. From the Ekeberg Restaurant, you have a wonderfull view over downtown Oslo with Rådhus and Barcode.
The painting "The Scream" by Edvard Munch is painted from Utsikten ("the view"), a part of Ekeberg. (More)
In the area are a number of old Iron Age grave mounds and Bronze Age ritual sites. This establish the area of Ekeberg as one of the oldest inhabited places around Oslo. During the Middle Ages, the farm of Ekeberg belonged to Hovedøya Abbey. The area was later taken by the crown.
From 1760, the farm of Ekeberg was run by an appointed owner, and his relatives owned the farm thereafter. In the area, a number of small homesteads under the main farm was erected the following century. The first suburban settlement came around 1900, and the early suburb was raised in the years prior to 1935. Many of the early houses are still present in the area. Ekeberg belonged to Oslo from 1947.
In 1926 Roald Amundsen's airship Norge, was on its way from Italy to Svalbard, stopped in Oslo, mooring at Ekeberg at a specially-constructed mast, the foundation of which can still be seen today at the north end of the park.
The Ekeberg Restaurant is a populair place in the summer to meet people and get a nice view over Oslo.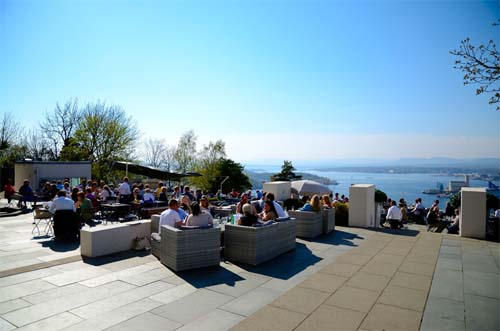 The original restaurant had been built in 1916 by Tiedemanns Tobakksfabrikk, a manufacturer of tobacco products.
In 1929, one of Europe's foremost functionalist buildings was complete, to the delight of the entire population of Oslo. The building is listed today and the renovation has concentrated on conserving the classic, whilst modernising for a new age.
In the late nineties, the building was restored, by restaurateur Bjørn Tore Furset and a modern building which retained all its classic features was created. The new building contains several restaurants, a bar/lounge, conference and meeting facilities, banqueting and wedding suites and a beautiful second floor veranda.
The Barcode Project is a section of the Bjørvika portion of the Fjord City redevelopment on former dock and industrial land in central Oslo. It consists of a row of new multi-purpose high-rise buildings, due to be completed in 2014. The developer is marketing the project as "The Opera Quarter." There has been intense public debate about the height and shape of the buildings.
More information on www.ekebergrestauranten.com and wikipedia.org