International Volvo Photo Locations Part 123


From Stanley Park Dr on Stanley Park, you get a wonderfull view on downtown Vancouver on the west coast of Canada.
The two buildings seen on the photo from 1959 are the Marine Building (more information) and Hotel Vancouver (more information), now know as Fairmont Hotel Vancouver.
The little object on the left side of the photo from 1959 and of 2013 is the 9 o'clock gun, which fires a shot every night at 21:00 (9 p.m.) PT (more information).
The Marine Building was the tallest skyscraper in the British Empire when it opened in 1930, this marine-themed Art Deco structure cost $2.3 million but was sold to the Guinness family for only $900,000 once the Great Depression set in. It was restored in the 1980s. Its terra-cotta tiled art deco entrance, ornate revolving door and etched brass elevators doors form one of the busiest filming locations in the city.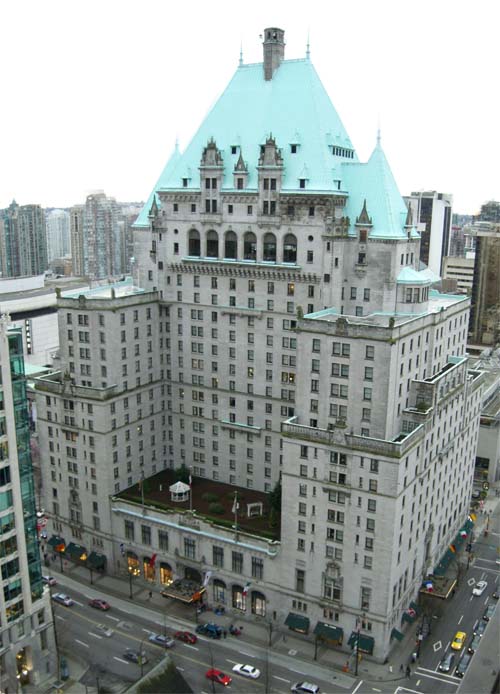 The Hotel Vancouver is a hotel located on West Georgia Street and Burrard Street, in the heart of Downtown Vancouver, British Columbia. This heritage hotel was the 3rd Hotel Vancouver and took 11 years to complete. The second Hotel Vancouver, this building's predecessor a block away, was built in 1916, and became a troop barracks during the Second World War, and was finally torn down in 1949 to fulfill a commitment made by the city with the developers of the third Hotel Vancouver to demolish it – as the new hotel's design was not as lavish and impressive, and the older hotel was perceived to be too much of a potential rival.
Vancouver is a coastal seaport city on the mainland of British Columbia, Canada. Vancouver is one of the most ethnically and linguistically diverse cities in Canada; 52% of its residents have a first language other than English. The Greater Vancouver area of around 2.3 million inhabitants is the third most populous metropolitan area in the country and the most populous in Western Canada.
As of 2011, Vancouver is the most densely populated city in Canada. Urban planning in Vancouver is characterized by high-rise residential and mixed-use development in urban centres. As part of the larger Metro Vancouver region, it is influenced by the policy direction of livability as illustrated in the Livable Region Strategic Plan.
Vancouver has been ranked one of the most livable cities in the world for more than a decade. As of 2010, Vancouver has been ranked as having the 4th highest quality of living of any city on Earth. In contrast, according to Forbes, Vancouver had the 6th most overpriced real estate market in the world and was second-highest in North America after Los Angeles in 2007. Vancouver has also been ranked among Canada's most expensive cities in which to live. Forbes has also ranked Vancouver as the tenth cleanest city in the world.
This approach originated in the late 1950s, when city planners began to encourage the building of high-rise residential towers in Vancouver's West End, subject to strict requirements for setbacks and open space to protect sight lines and preserve green space. The success of these dense but livable neighbourhoods led to the redevelopment of urban industrial sites, such as North False Creek and Coal Harbour, beginning in the mid-1980s. The result is a compact urban core that has gained international recognition for its "high amenity and 'livable' development". More recently, the city has been debating "ecodensity"—ways in which "density, design, and land use can contribute to environmental sustainability, affordability, and livability."
More information on www.infovancouver.com, wikipedia.org and www.fairmont.com/hotel-vancouver