International Volvo Photo Locations Part 128


The Langeliniekajen or Langelinie Pier is located in the harbor of Copenhagen, the capital of Denmark.
The Langeliniekajen has a water depth allowing big ocean-going vessels to tie up. The area has a number of statues and memorials. These include a cast bronze sculpture polar bear with cubs and memorials for MS Jutlandia, Ludvig Mylius-Erichsen. The polar bear has some bullet holes at the head. They were made by a German soldier under the Occupation of Denmark.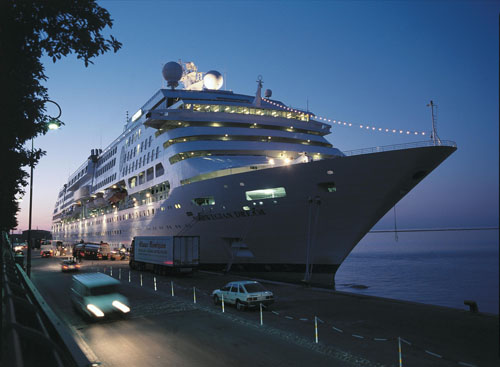 Langelinie is a pier, promenade and park in central Copenhagen, Denmark, and home of the statue of The Little Mermaid. The area has for centuries been a popular destination for excursions and strolls in Copenhagen. Most cruise ships arriving in Copenhagen also berth at Langelinie Pier.
Most ships that visit Copenhagen during a cruise are berthed at Langelinie, a pier just north of the Little Mermaid and about 4 km or 2.5 miles from Tivoli and the main railroad station. (Large ships that are beginning or ending a cruise in Copenhagen are likely to use the newer Freeport Cruise Terminal, which is in an industrial harbor area well to the North of Langelinie and the city center.)
Although Langelinie is sometimes referred to as the "Copenhagen Cruise Terminal," it's less a terminal than a long quay with shops and an information center operated by the Copenhagen Tourist Office. Still, it's more convenient than piers in most large cities, and you can easily walk to the major tourist sights along Copenhagen's attractive waterfront. (Alternatively, you can use your cruise ship's shuttle bus, public transportation, or a taxi. The local No. 26 bus will take you from the pier to the City Hall Square, which is right next to Tivoli Gardens, in about 20 minutes.)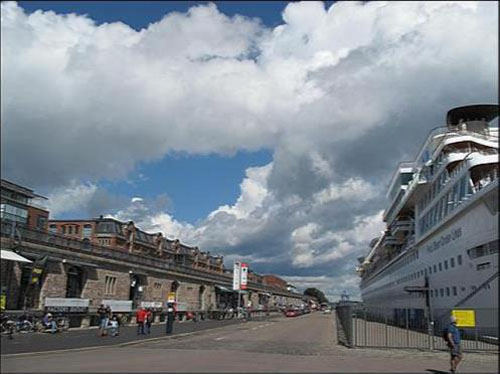 If you've got an hour or two to kill before departure, or if you'd rather not haul purchases from the city center to the ship, allow time for a visit to the Langelinie Quay Shopping Arcade. Beneath the stone arches of Langelinie's old warehouses, you'll find shops that sell porcelain, amber, Danish clogs, jewelry, clothing, and other products.
Tip: The Illum department store has a small cruise lounge in its main building on the Strøget in central Copenhagen. You can rest your feet, get help from the on-duty hostess, and enjoy a free cup of coffee or tea before you resume your shopping and sightseeing. (The new lounge, which opened in 2009, is available during store hours whenever cruise ships are in port. It replaces earlier cruise lounges at the Royal Copenhagen and the Magasin du Nord stores that you may have read about in out-of-date guidebooks.)
More information on en.wikipedia.org, www.visitcopenhagen.com and www.langelinie-outlet.dk.