Volvo Photo Locations Part 194


The Domkyrkoforum or Lund Cathedral Forum is located at Kyrkogatan 4 in Lund.
Domkyrkoforum Lund is the visitor center of the Lund Cathedral. The building has facilities for concerts, conferences, shop, administration and more. Architect Carmen Izquierdo and landscape architect Charlotte Lund were awarded the 2011 Faculty of architecture award for the design of Domkyrkoforum and Dom Square. Domkyrkoforum got awarded the Kasper Salin Award and the Region Skåne architecture prize in 2012.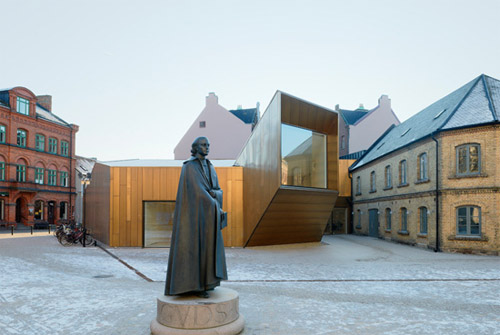 The site of the new cathedral forum is central Lund, in direct connectionto the cathedral itself. On the site is situated the existing "Arken" house, which is a building of historical value. The new building aim stoint egrate itself in the urbanfabric in a natural way, by adaptingto the scale and lines of the surrounding cityscape. At the same timeour vision has been to create a contemporary building that adds a new layer to the many historic layers that characterize the urban environment of central Lund.
The shape of the building creates new adjacent public spaces: The entrance plaza towards Kyrkogatan street, the entrance passage facing the cathedral, and a triangular square towards Kungsgatan street. In addition to the welcoming exterior spaces an internal atrium is created, as well as an interior courtyard, shaped by the existing and the new building.
The central public space in the building is the entrance hall that is reached from both entrances. The entrance hall is formed as a meeting space; a general and generous which can hold various activities like reception, exhibitions and a cafe. A two-storey atrium allows daylight to enter from above, while visually integrating the public spaces with the congregational facilities on the second storey.
The auditorium is conceived as a unique space, with its skylight pointing up towards the cathedral towers. The exterior is a simple yet characteristic volumes, its lines playing with the surrounding buildings. Towards Kyrkogatan street the rooflines of the Arken house are continued over the entrance plaza.
Towards the cathedral the entrance is signaled by the characteristic skylight. The facade of the building is madeof a brass alloy, a natural material that ages with a rich and living texture, allowing the building to age into its surroundings; at the inauguration it shimmers like gold, but in a couple of years it will have oxidized into a deep and matte bronze color.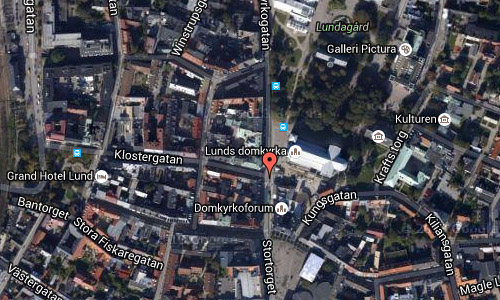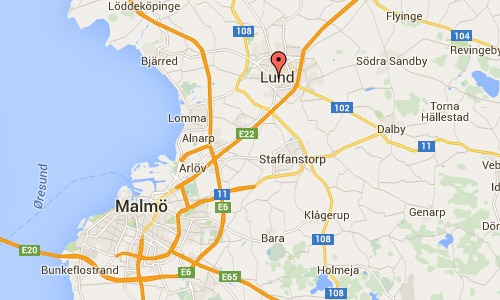 More information at www.izquierdo.se, lundsdomkyrka.se and www.archdaily.com.