Volvo Photo Locations Part 212


Åhaga is a concert and exhibition hall on Lillavägen and Trandögatan in Boras.
The current company is housed in an old train locomotive building. This brick building with one floor level was built in 1884 by Kinds Härads Järnväg and the surface is quite large. It has Saw-tooth roof that result from an expansion in the 1920s and large windows along the low walls. A chimney still stand and is a witness to a time when Åhaga was a workshop for maintenance of a southbound train track and eventually also for the repair of locomotives and wagons. In 1944, 130 people worked here before operations went down in 1965. In over thirty years, the building was empty and left to decay. A conscious renovation of existing objects took off in the early 2000s, and June 13, 2002 was inaugurated the new Åhaga.
Today, Boras Symphony Orchestra has Åhaga as their home base. Since 2002 it has conducted five concerts here each year.
Several times during the year, online fashion store Nelly.com organises a huge outlet sales in the building.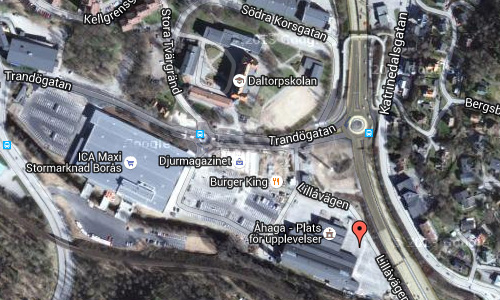 More information at sv.wikipedia.org, www.ahaga.se and www.borassymfoniorkester.se.