Volvo Photo Locations Part 228


Västra gatan is an old street in the old part of Kungälv, a little city just north of Göteborg in Sweden.
According to official Swedish sources the city was founded in 1612, when the city of Konghelle was moved closer to the Bohus Fortress. However, this is disputed because other sources indicate that it was just a strategic relocation of the existing Norwegian city, the capital of Norway at one point under Sigurd I Magnusson, something frequently used for marketing and tourist purposes. For this reason, Kungälv could celebrate its "1000 year anniversary" in 1959.
Sigurd I Magnusson (Sigurd Jorsalfare, i.e., Sigurd the Crusader) was the King of Norway (1103–1130) and is the most well known crusader king of Scandinavia. He was also the first European king to join the crusades at a time where Kungälv was Norwegian territory.
Sigurd returned to Norway in 1111, where he made his capital in Konghelle (in the vicinity of Kungälv in present-day Sweden) and built a castle there, where he kept a relic given to him by King Baldwin, a splinter reputed to be from the True Cross. Sigurd died in 1130 and was buried in Hallvardskirken (Hallvards church) in Oslo, in present-day Norway.
In the 1120s Pomeranian ships from Szczecin (in present-day Poland), from the southern coast of the Baltic Sea attacked the Danish coast. On 10 August 1135 Duke Ratibor assaulted the Norwegian towns. Konghelle, was captured and burnt to the ground by the forces of prince Ratibor, assisted by a fleet of 550 ships with cavalry on board (each carrying forty-four men and two horses). They laid the town to ruins, killed a large part of the population, and abducted most of the survivors as thralls to Szczecin. Snorri Sturluson, writing a century later, said that Konghelle never completely recovered.
The former settlement at Konghelle burned down in 1612, and was subsequently moved by Christian IV of Denmark and Norway to the open slope below Bohus Fortress, and rebuilt as Kongelf.
The Bohus Fortress and the cookie and biscuit factory "Göteborg Kex" are the most popular tourist attractions in Kungälv.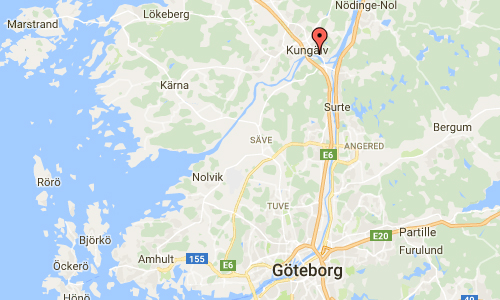 More information at sv.wikipedia.org and www.kungalv.se.
Thanks to Per Pettersson, who found this Volvo Photo Location!