International Volvo Photo Locations Part 279



Signal Hill road is an out and back scenic drive/pass that starts at Kloof Nek and climbs very steeply under the eastern flank of Lions Head, to level off along the spine of the ridge. It runs due north providing superb views of the city bowl and further towards False Bay. As the road curls around Lions Rump (Signal Hill) you will experience rapidly changing views of first, the main harbour, then the V&A Waterfront, Green Point with the Cape Town Stadium as its focal point, then Sea Point. Nelson Mandela's incarceration on Robben Island brings back memories of another era in our history. It lies only 3 nautical miles out into the blue waters of Table Bay.
Signal Hill is Cape Town's best loved sun-downer spot – great views of the city!
Drive up Buitengracht road towards the mountain. It eventually becomes Kloof Nek Road. On the top of the hill (at the corner of Kloof Nek and Tafelberg Road) turn right into Signal Hill road. You will see the beginning of the Lion's Head Walk on your left where there are usually a few cars parked with hikers preparing for the walk. Wave at them, smile and carry on your drive further up the hill.
There are many lookout points with the main Signal Hill lookout point situated at the very end of the road – about a 10 minute drive from Lions Head.
Signal Hill (Afrikaans: Seinheuwel) or Lion's Rump, is a landmark flat-topped hill located in Cape Town, next to Lion's Head and Table Mountain.
There is a road to the summit and that vantage point provides spectacular views over the Cape Town city centre and Atlantic Seaboard and surroundings, especially at dawn or sunset. Along Signal Hill Road one can also find the Appleton Scout Campsite owned and operated by the South African Scout Association.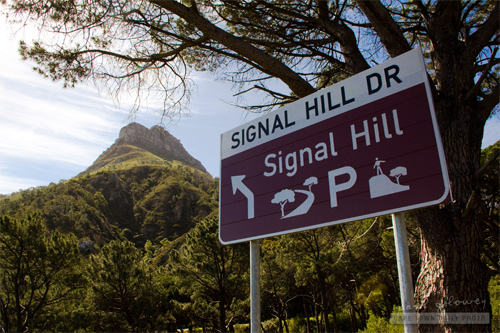 Signal Hill is one of the only places in the world where critically endangered Peninsula Shale Renosterveld vegetation can be found. Peninsula Shale Renosterveld used to be the dominant ecosystem of the Cape Town City Bowl, but was completely endemic, occurring nowhere else in the world.
Urban growth has now covered most of this ecosystem and — along with a tiny patch on Devil's Peak — Signal Hill has the only surviving sample of this vegetation in the world.
More information at en.wikipedia.org and showme.co.za.