International Volvo Photo Locations Part 282


Nyhavnsbroen or Nyhavns Bridge is a bridge near Nyhavn that connects the streets Holbergsgade and Toldbodgade in Köpenhamn or Copenhagen, Denmark.
Nyhavn or New Harbour is a 17th-century waterfront, canal and entertainment district in Copenhagen, Denmark. Stretching from Kongens Nytorv to the harbour front just south of the Royal Playhouse, it is lined by brightly coloured 17th and early 18th century townhouses and bars, cafes and restaurants. The canal harbours many historical wooden ships.
Nyhavn was constructed by King Christian V from 1670 to 1673, dug by Swedish prisoners of war from the Dano-Swedish War 1658–1660. It is a gateway from the sea to the old inner city at Kongens Nytorv (King's Square), where ships handled cargo and fishermens' catch. It was notorious for beer, sailors, and prostitution. Danish author Hans Christian Andersen lived at Nyhavn for some 18 years.
The first bridge across Nyhavn opened on 6 February 1875. It was a temporary wooden footbridge. It was replaced by the current bridge in 1912.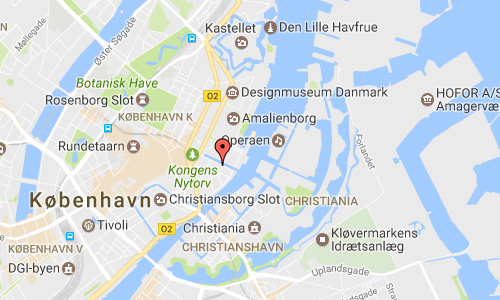 More information at en.wikipedia.org.