International Volvo Photo Locations Part 332



Bellevue Strandbad or Bellevue Beach is located on Strandvejen in Klampenborg, just 10 kilometers north of Copenhagen in Denmark.
The beach is very popular with locals during the summer months and can be reached in just five minutes' walk from both Klampenborg S-train station and Dyrehaven.
The beach is 700 meters long and has both lifeguards and freshwater showers on the beach.
The beach is just off the picturesque fishing village, Tårbæk, and right next to Strandvejen at the Arne Jacobsen-designed Bellevue Theatre.
Klampenborg is a northern suburb to Copenhagen, Denmark. It is located in Gentofte Municipality, directly on Øresund, between Taarbæk and Skovshoved. Like other neighbourhoods along the Øresund coast, Klampenborg is an affluent area with many large houses.
Klampenborg is known for a cluster of building projects by the Functionalist Danish architect Arne Jacobsen. These include Bellevue Beach, the Bellavista housing estate and the Bellevue Theatre, all completed between 1932–36 as some of the earliest Danish examples of Modernism. The area also includes a Jacobsen-designed restaurant, now called Jacobsen, which reopened in 2009 after thorough restoration and to good reviews.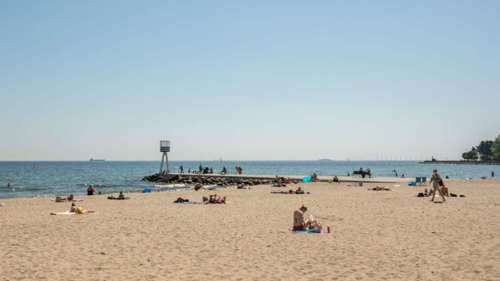 Due to Bellevue Beach, Klampenborg is also a popular beach destination in summer, although the area draws fewer Copenhageners since the inauguration of Amager Beach Park and the Copenhagen Harbour Baths in 2005.
Klampenborg is also the main gateway to the extensive Deer Garden forest park, one of the most popular (semi-)natural areas in the Copenhagen area, known for its large deer population and ancient oak trees. The entrance, one of many, is located right next to Klampenborg Station and is marked by a red-painted wooden gate. In connection with the park lies the oldest operating amusement park in the world, Dyrehavsbakken, also located close to the station.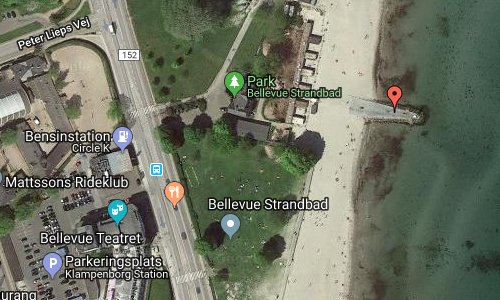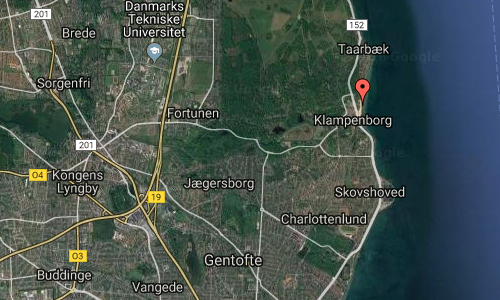 More information at en.wikipedia.org, www.arkitekturbilleder.dk and www.visitdenmark.com.