International Volvo Photo Locations Part 371



Jofré store is located on Carrer de Bori i Fontestà in Barcelona, Spain.
Carrer de Bori i Fontestà is close to the Turó Park, also called Turó Parc , is a park located in the Sarriá-San Gervasio district of Barcelona . It is located in the middle of a large urban area and is one of the most visited places in the area. Previously (1912 – 1929) it was an amusement park that gave its name to the current park.
Its beginnings date back to the beginning of the 20th century, in 1912, when a large amusement park was inaugurated in the gardens owned by the Bertrand-Girona family, which is why it receives this denomination. In 1929 the park closed its doors, but the family made a pact with the City Council, giving it part of the land in exchange for urbanizing the rest. The City Council named Josep Bertrand on one of the streets surrounding the park. The architect Nicolau Maria Rubió i Tudurí was in charge of designing the new structure of the park and finally opened its doors again in 1934.
Sculptures are an important element in the park. In the main area of ​​grass we find La ben planted , sculpture by Eloïsa Cerdan that pays tribute to the Catalan writer Eugenio d'Ors , at the fountain and presiding over the promenade of the magnolias, there is a bronze sculpture that represents a classic beam thrown by two horses. At the main entrance of the park we find a large bronze sculpture in which there are represented angelic musicians playing transverse flutes; The legend says that it was sculpted in honor of the young literature lovers of the area, in order to find in its adjacent banks the peace and tranquility to be able to carry out a leisurely and exciting reading in the middle of the acoustic maelstrom that It is a city as beautiful as Barcelona.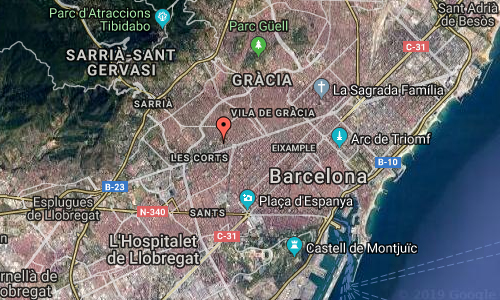 More information at es.wikipedia.org and jofre.eu.