International Volvo Photo Locations Part 385



Avinguda Diagonal 197 is a building on Avinguda Diagonal in Barcelona.
The construction year is 2008 and responsible architects were a team of architects from David Chipperfield Architects, b720 Arquitectos and BB GG Arquitectes.
The office building is located within Campus Audiovisual, a part of the regenerated 19th century industrial area of Poblenou, fronting a southern section of the Diagonal and close to the boundary of the Eixample and Sant Martí areas of the city of Barcelona. The site occupies approximately one quarter of an urban block within Idefons Cerdà s masterplan. Simple and bold sculptural forms have been carved out of the given project boundaries.
The spaces between these buildings of that urban block form small piazzas – social spaces that link the buildings of the masterplan. To reinforce the object-like quality of each individual building within the masterplan, their massiveness and materiality are expressed and the sculptural approach to the design is supported by the monolithic look of the building.
The abstract quality of the façade is generated by a random pattern of full-height window openings. Coloured, glass fibre reinforced concrete panels are arranged vertically over the entire façade and into the lining of each window space with a precision and sculptural quality appropriate to both the climate and craft traditions of Barcelona.
These panelled façade elements are insulated and form an integral part of the façade assembly together with the solid block work wall and the internal office surface cladding.
In contrast to more recent office buildings with a high percentage of glazed façade units, the Campus Audiovisual building has a reduced ratio of window areas thus minimizing the amount of solar heat gain and energy consumption for office cooling and conditioning. Environmental efficiency is further enhanced by the fact that the building shape has only approximately 14% south facing façades and variations in the width of the window components respond to the orientations of each façade.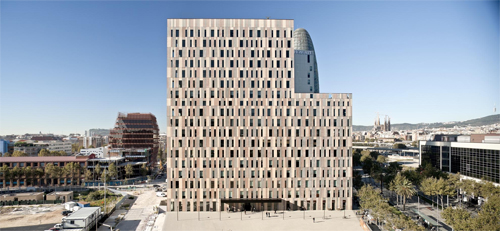 The simple plan form of the building provides flexibility and permits a variety of space configurations with full height windows in every space. The arrangement of window elements and their locations within the slender footprint of the floor plate provide natural light to the areas within the office zones – internal glare blinds allow adjustment for individual user requirements. The concrete stair and lift cores are metal and glass clad whereas the other main structural elements – the columns – are cast in situ with a fair faced concrete surface. In the main office spaces additional and flexible installation is supported within the raised floor and suspended ceiling zones.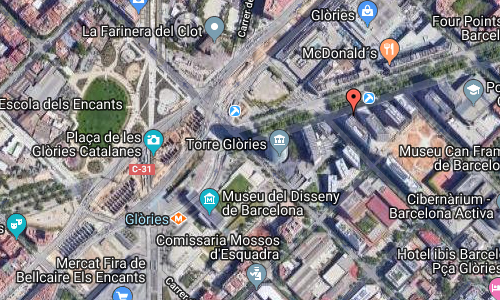 More information at architravel.com, b720.com and miesarch.com.