International Volvo Photo Locations Part 386



Parròquia del Patriarca Abraham is located on Carrer del Bisbe Climent in Barcelona, Spain.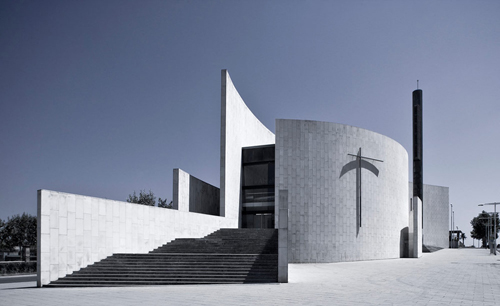 Church of an elliptical-shaped nave and very simple curved geometric lines with a certain imitation of the forms of a fish as a millenarian symbol of Christianity. Access is made through one of the ends where there is a glazed canopy. It is covered by a flat ceiling on six beams with wooden ribs; exterior walls of white artificial stone with rectangular windows in the base and lawn molding on the upper floor in the front facade; the other walls have no openings.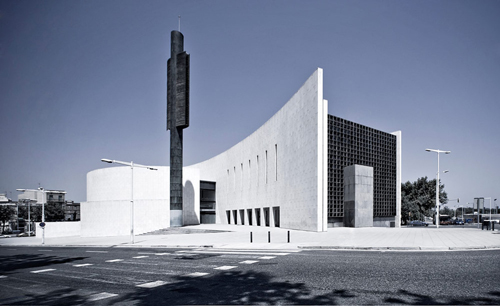 Architects of this amazing church were Josep Benedito i Angustí Mateos.
It has a bronze altarpiece of 7'25 x 8'45 meters from the sculptor Riera i Aragó; and an alabaster image of the Virgin and the Child that touches Maria's cheek (Mother of God, the type of "hand on her face") of sculptor Emili Colom, inspired by a Romanesque image of primitive church of the Virgen de la Merced; This new image today has been baptized as the Mother of God of Welcome.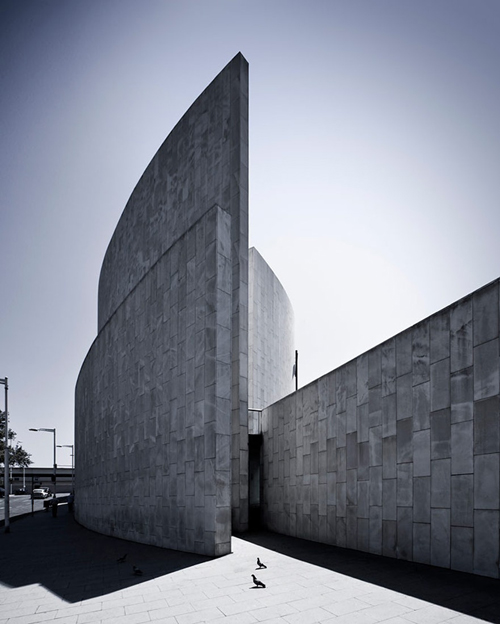 Bell tower that is not a tower; is exempt on the platform located in front of the front, south west of the building; It has a circular plant with an outside diameter of 1'60 meters (perimeter: 5'02 m). It is formed by a concrete base of about three meters in height; the rest is lined externally from copper plates with latticework on either side of the top that hide the five bells: Maria del Mar, Maria de la Pau, Montserrat, Eulàlia and Sara, latticework prolonged by double plates that make one provision of cross with the cylinder. It has a rectangular portal, or at least it seems, and a glazed upper opening. It is accessed from the basement of the temple and the bells can be reached by a cat ladder that is in the inner cylinder that is about 60 centimeters wide.
More information at campaners.com and architizer.com.