International Volvo Photo Locations Part 391



Carrer de Montserrat is a street in Manresa north of Barcelona, Spain. At this location, a housing and urban development project was realised by Pich-Aguilera Architects.
The proposal of the buildings and the open spaces has been structure from the consideration that the environment where the project is developed has got several point of view and confrontation with the existing city.
We can resume in three points this complexity:
· The relation with the "high" city which gives a leadership to the roofs and the different treatment of the pavements and the levels of the open spaces make up a "horizontal facade" which maintains the same strength and urban intention as the real facades. Green water-tank roofs are proposed with this objective.
· The relation with the St. Ignasi street as a principal access in the future city; the projects sets an typological organization and a rhythm in the façade with a constant alignment for generating a set that marks a clear urban boundary.
· The relationship with Montserrat street, where the buildings are planned to interpret the existing city with its irregularities and minimum parcel.
The proposed arrangement tries to generate open spaces for pedestrians but at the same time it looks for spaces of relation between the different buildings. All the halls to the apartments are facing the Montserrat street becoming a public space of connection between the houses.
Manresa is the capital of the Comarca of Bages, located in the geographic centre of Catalonia, and crossed by the river Cardener. It is an industrial area with textile, metallurgical, and glass industries. The houses of Manresa are arranged around the basilica of Santa Maria de la Seu. Saint Ignatius of Loyola stopped to pray in the town on his way back from Montserrat in 1522. He also read in solitude in a cave near the town for a year, which contributed to the formulation of his Spiritual Exercises. As such, the town is a place of pilgrimage for Catholics.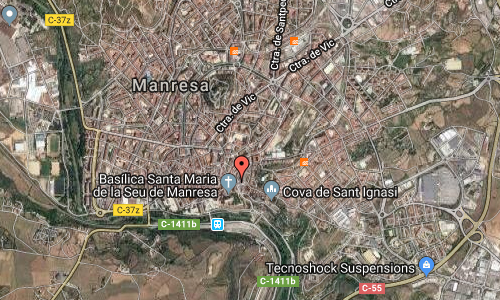 More information at archdaily.com and en.wikipedia.org.