International Volvo Photo Locations Part 389



Carrer de Pallars is a street in Barcelona that crosses the train rail road track towards Estación de Francia.
Sant Martí is a district in Barcelona which extends north of the Ciutat Vella. Developed from the former industrial areas of Poblenou, medieval district of Clot and suburbs of Sant Martí, it became a place of large-scale ambitious urban redevelopment. This resulted in many landmarks of postmodern architecture, especially along the northern part of Avenida Diagonal, which was pretty much reconstructed in the 21st century. Sant Martí also features beaches along the coast and a handful of parks and other tourist attractions.
Estació de França is a major railway station in the city of Barcelona in Catalonia, Spain.
Estació de França is the second busiest railway station of the city after Barcelona-Sants in terms of regional and long-distance ridership. It may lose this status, however, with the arrival of the AVE high-speed train in Sants and the construction of Estació de la Sagrera, planned for completion at the end of 2017, that will concentrate most of the traffic.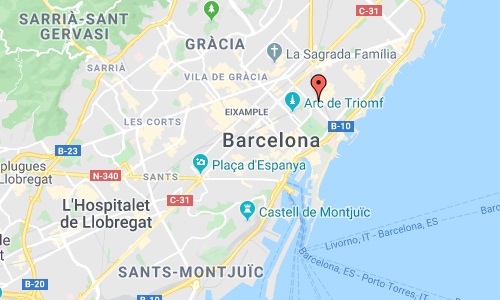 More information at en.wikipedia.org and wikivoyage.org.