Volvo Photo Locations Part 341



Årstaängsvägen is located at Årstaviken in Liljeholmen Stockholm, Sweden.
Årstaviken is a bay in the easternmost part of Lake Mälaren in Stockholm, within the districts of Södermalm, Liljeholmen and Årsta.
Årstaviken begins in the east at Hammarbyslussen and ends in the west at Marievik and Liljeholmsbron where it transitions into Liljeholmsviken. At most, it is 625 meters wide, between Tantolunden and Sjövikskajen. The bay is 109 hectares, the average depth is 5.9 meters and the largest depth is 9.8 meters. A walk around the bay is about 7.5 kilometers long.
Along the southern Årstaviken, Årsta forest spreads out, along the northern shore are (from the east) Eriksdalsbadet, Eriksdalslunden, Södersjukhuset and Tantolunden. In the middle of Årstaviken lies Årsta islets, three overgrown islands. Across the bay and Årsta Holmar spans the Årstabridge, two railway bridges built in 1929 and 2005. With the construction of the Hammarby trail in 1929, Årstaviken became part of the new waterway between Lake Mälaren and the Baltic Sea.
Årstaviken served as the main water source for Stockholm's drinking water between the years 1861 and 1923. Subsequently, the water sources were moved further away from the town itself, and were transferred to Norsborg and later also to Lovön.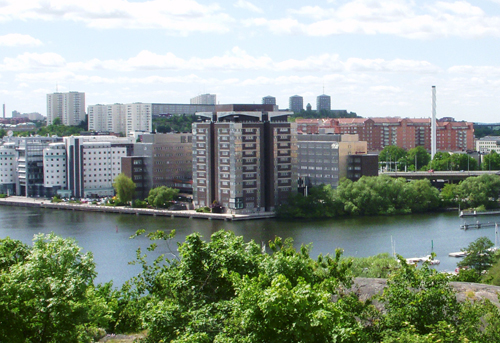 Marievik 15 is an office and industrial property on Årstaängsvägen 1-5 in the Marievik area in Liljeholmen, southern Stockholm. The building, which was created in 1980 by architects Anders Berg and Erik Thelaus, is "green-classified" by the Stockholm City Museum which means, among other things, a high cultural-historical value. In 2013 there are plans to demolish the office building with adjoining buildings to prepare space for new high "portal buildings" containing housing.
The architect assignment went to Anders Berg and Erik Thelaus , who then had a collaboration. In 1982, the 32,700 m² plant was completed and constituted the first stage of Marievik's renewal. At the far end of the cape was a 12-storey, stubby point house erected by an L-shaped lower building on seven floors. These are linked together through two-story buildings. The facade surfaces consist of patterned, dark brown bricks that form a square grid pattern combined with stainless steel sheet. Corners and vertical strips, as well as the retracted penthouses and facade parts towards the inner courtyard, are entirely covered with stainless steel sheet. Together with architectural details such as "corner wings" on the roof top floor and high precision in the detail design, the building became representative of the so-called high-tech architecture of the 1980s.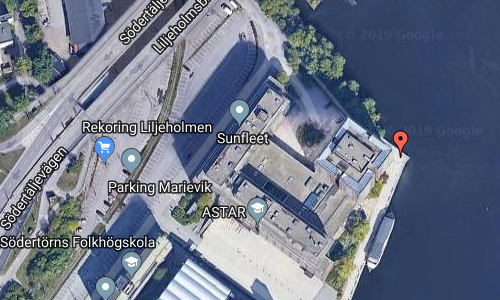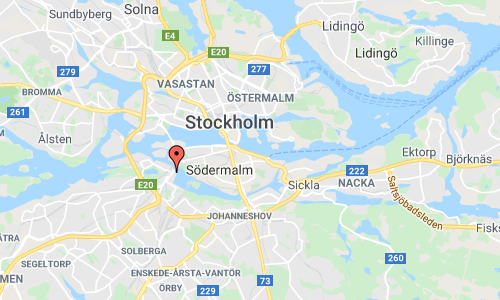 More information at sv.wikipedia.org and sv.wikipedia.org.