Volvo Photo Locations Part 352



Urban Smak is a restaurant located in the Stormen building on Västergatan in Växjö in Småland, Sweden.
The wood investment in Växjö has led to private entrepreneurs also wanting to invest in wooden building projects in the city. Joachim Widerstedt, HusQuben, has together with Arkitektbolaget created an infill project in Växjö's grid plan which shows that with creativity you can build new thinking in old environment.
The ideas of what would happen in Kv Stormen, a glance south of Växjö's pulse vein Storgatan, had already come a long way when the Arkitektbolaget came into the picture. The task for us was to design a volume that would breathe wood and new thinking, and to create as much rentable space as possible. The idea of ​​creating a flying box that protrudes a bit across Västergatan's street space and also advertises itself against Storgatan was born. An existing wall was retained and the new wooden box keeps a short distance from the existing one in all directions. The new building provides a nice industrial farm environment, a fourth wall facing the street and an already beautiful room in the city has been further strengthened and beautified. In the ground floor there is a restaurant and the other three floors contain offices.
The building's design is unique in Sweden. The walls are made of solid wood boards from Austria and the joists consist of elements from a manufacturer in Switzerland. The joists are designed as large hollow beams in wood. In the cavity, there is either sand to improve the sound reduction or heat insulation. The outer layer of the house is made of unpainted wood boards in larch exterior and spruce inside.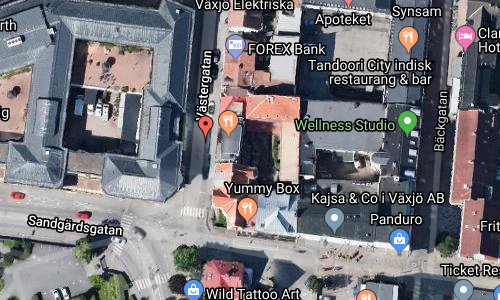 More information at arkitektbolaget.se and urbansmak.com.