International Volvo Photo Locations Part 438



Stokhusgade 6 is located next to the known building on Stokhusgade 4B in Copenhagen, Denmark.
Stokhusgade is a cobbled, one-way street in central Copenhagen, Denmark, linking Rigensgade in the southeast with Øster Voldgade in the northwest. The street takes its name after the Copenhagen Stocks House which was located at the site from 1741 to 1851. The College of Advanced Technology's former buildings occupy the entire southwestern side of the street.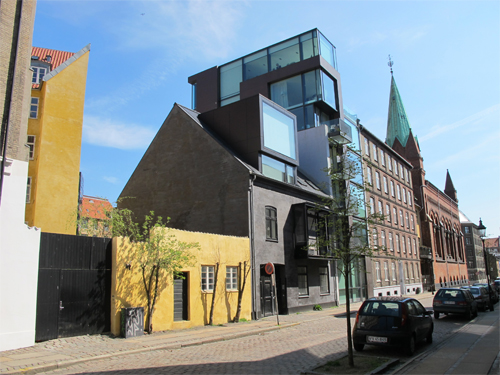 The seven-storey house on number 4B houses 580 m², and stands on a just seven meter wide plot between historic buildings in inner Copenhagen. The architects' intention with the project has been to create a fine relationship to the area's existing buildings and media, the leap between the two neighboring buildings, but at the same time add a distinctive, new expression.
On the east side of the house is a 6-storey brick house from 1862, and to the west a 3-storey townhouse from 1872. This townhous is painted black recently and went throught a huge modernization.
The project utilizes the free light to the west by changing orientation from north / south to west in the fourth floor height, so the upper floors gets a view of Østre Anlæg and the Statens Museum for Kunst. The façade consists of a strip of copper alloy tombak, which runs up along the façades between the large window sections. The band consists of thin plates, with punched knobs, which create a tactile scale in the facade. In addition, the floor separations from the building on the east side continue as floor heights in the house, which is reflected in the window composition. The basement and ground floor are furnished for business, while there are 5 apartments in the rest of the house.
In October 2009, Oprah Winfrey visited the Nils Holscher House at No. 4B in a programme sent from Copenhagen. The building has also been featured in the DTK programme Arkitekternes hjem ("The Architects' Homes").
More information at en.wikipedia.org, holschernordberg.dk and archdaily.com.