International Volvo Photo Locations Part 441



Bjerget ØrestadsParkering is located on Ørestads Blvd in Ørestad, Copenhagen in Denmark.
The car park was built in 2008. The car park, which is part of the VM Bjerget building, was built by Høpfner A / S and Dansk Olie Kompagni. The architect is Bjarke Ingles Group.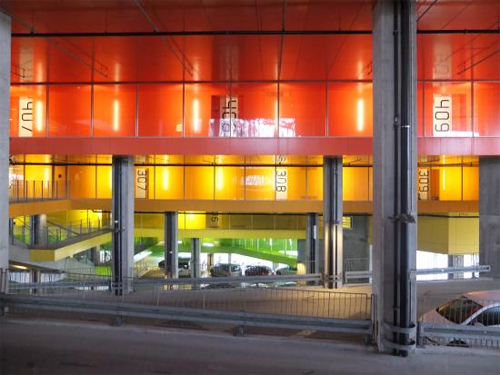 VM Bjerget is a fusion of residential construction and parking garage and Bjarke Ingles has won a number of international awards for his architecture and his idea, including the title of the world's best residential construction in 2008 at the World Architecture Festival in Barcelona.
VM Bjerget rises from terrain level in the southeast to 34 meters in the northwest. The parking garage is located in the interior of the mountain with unusual, high-ceilinged and cathedral-like spaces.
The parking garage has 423 parking spaces on five levels.
The punched aluminum facade naturally ventilates in the parking garage. The façade has helped give the building its name, as it is clad with 1,200 aluminum sheets, which represent the peaks of Mount Everest. The artwork is nothing short of the world's largest photograph. The photo used for the rendering was taken by Japanese photographer Osamu Uchida. The parking garage itself is also spectacular. The ceiling height is up to 16 meters, the walls are painted in dramatic colors and the elevator that cuts through the room moves obliquely up the inner walls of the mountain.
More information at parkincph.dk and dac.dk.