Volvo Photo Locations Part 357



Torsgatan is a street located in Vasastan in Stockholm, Sweden.
Torsgatan is a main street in the districts of Norrmalm and Vasastaden in Stockholm's inner city.
Torsgatan got its current name at the major name revision in 1885 and the name was under the category "the Nordic theology", where Tor was one of the foremost in the Nordic deity saga. During the name revision, the street was described as "the road to Rörstrand from the northern railway station past Sabbatsberg and Atlas and further north". In addition to Sabbatsberg Hospital, Mjölkcentralen had its main dairy here in the 1930s and 1940s.
At Torsgatan, there is also Bonnierhuset and Bonniers konsthall as well as SPP Livförsäkring's head office. The largest building along Torsgatan is the facility that was built for Stockholm's gasworks and Stockholm's water pipeline between the years 1903 to 1906 according to the architects Ferdinand Boberg's and Gustaf de Frumerie's drawings.
Stockholm's first asphalt street was completed in 1910. It was the Asphalt and Cement Company that provided part of Torsgatan – in the middle of the then "small plantation" at Norra Bantorget – with a modern paving at no cost.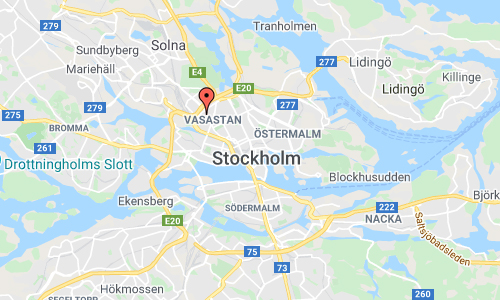 More information at sv.wikipedia.org.