Volvo Photo Locations Part 364



Volvo Hällered Proving Ground is located in Sandhult just north of Borås, Sweden. The facility is owned by Volvo Cars and is an important part of their product development.
The operation takes place 24/7 and a total of about 300 people at Hällered Proving Ground work with setting up test vehicles, conducting test runs, doing laboratory tests and evaluating test results. The facility's own maintenance organization also provides service and maintenance for the facility.
The 15 test tracks at Hällered Proving Ground are designed to give drivers maximum safety and the highest degree of reliability in test results. Advanced testing that covers a wide range of vehicle attributes is constantly performed at the test tracks. Sustainability, comfort, performance, safety and reliability are functions that are evaluated around the clock by our employees at Hällered. Drive wheels, chassis, steering, active safety features, cooling, suspension, shock absorbers and tires are other examples of systems and components tested here.

In addition to test tracks, the facility also has a number of laboratories where they perform tests and analyzes. Engineers, technicians, mechanics and test drivers employed by Volvo Cars, located on Hällered, perform objective testing and driving. Hällered covers an area of ​​about 700 hectares and is mainly a self-sufficient community. In addition to workshops, test laboratories and test rigs, there are administration buildings with offices, conference rooms, a restaurant and more.
At Volvo Cars' test track Hällered the car is pushed to its limit. Surrounded by a beautiful forest it is a quiet and peaceful place.
But then the forest opens and the track nicknamed "Car Hell" can be found – Hällered.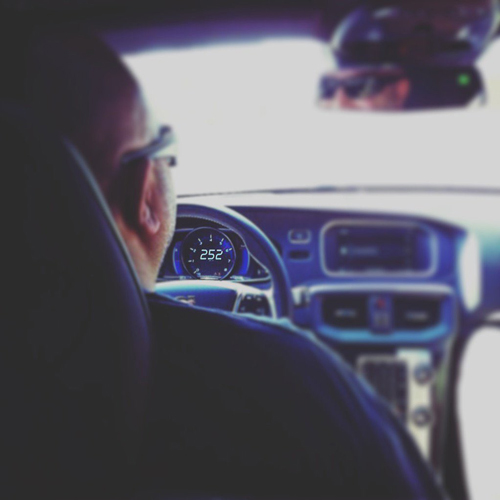 This is the place where Volvo cars are made to suffer around the clock in extraordinarily tough conditions. In only a few months the cars are aged as much as during the entire anticipated lifetime of the vehicles in ordinary traffic circumstances.
The test facility at Hällered in Sweden is a veritable "torture chamber" for cars. This is where tomorrow's components and cars are tested long before production starts. For a lifetime test, a car is driven really hard for 160,000 kilometres within a little less than a year. The equivalent of four complete circuits of the earth.
At the test facility there are 15 different test tracks where everything a Volvo car can be facing up to during its long life time is tested.
On the main track they bring the cars to their limits at full speed during interminable driving cycles at speeds of over 250 kilometres per hour.
On other tracks driving stability on the road and chassis components are tested with cars driven round tough bends. Annually the test drivers wear out some 2,000 tires.
The facility also includes tracks where they test all-wheel driven vehicles over extreme off-road conditions.
Along the 5 kilometres public highway type of track there are different kinds of demanding surfaces just like those to be found on real public highways.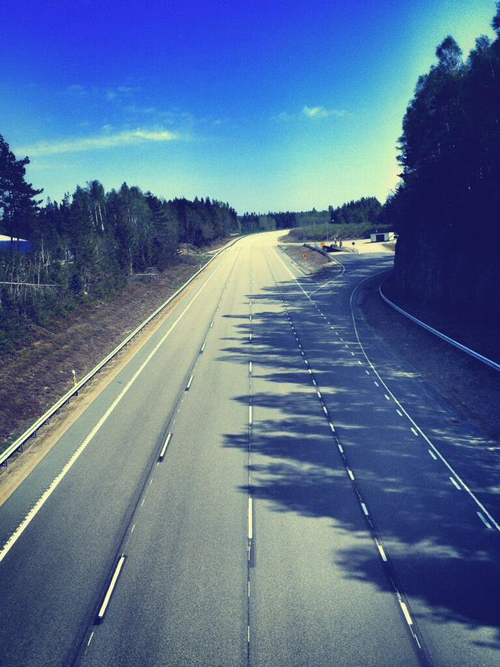 The cascade of salt water on the lifetime track severely tests the bodywork's rust protection. The suspension and shock absorbers really have their work cut out when the surface is aggressively rough.
Gravel tracks are a Nordic specialty that really challenges road holding qualities.
The car's active safety system is also tested at the facility. A special rig has been developed just to test the Pedestrian Detection system that should detect pedestrians and apply the brakes in case the driver does not react in time.
The about 75 test drivers who work at the facility play an important role. They are all well trained in advanced driving techniques and each one of them drives about 100,000 kilometres per year as a part of their work. It is their careful work that is the backbone of the whole operation.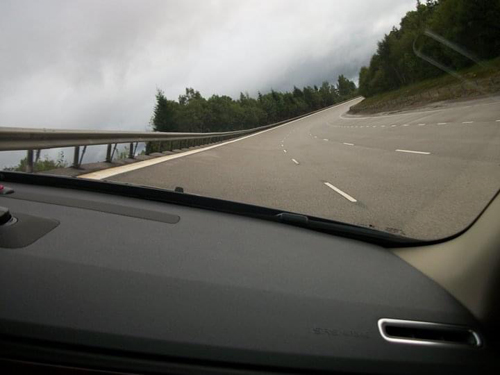 In the workshops and service stations at the facility, operations are carried on around the clock all year round. Test cars must be kept going and every hour is expensive. And all the time there are new cars waiting to be driven in the toughest tests.
In 1969, Volvo started to plan this proving ground at Hällered outside Göteborg. The site was 6 million m2 in size and the proving ground was due to be completed in 1972.
Hallered: every petrolhead's dream
(Published by Sudhir Matai on 20.04.2016)
Imagine having 15 different tracks at your disposal, which range from a 6,2 km high-speed oval, to high- and low-speed handling circuits, off-roading areas, gravel and dirt paths as well as cityscapes. Now imagine going there every day.
What I described above is just some of what makes up the Hallered Proving Ground, owned by Volvo Cars, just outside of Gothenburg, Sweden. For a lucky few, this is a reality and not only do they have access to this petrolhead playground but they get paid to visit and drive there daily.
One such person is Christer Aldeby, test driver for Volvo Cars. Aldeby, one of about 90 pilots in the employ of Volvo at this facility, was my host when I recently visited Hallered.
The total count of staff on the premises is roughly 300, including mechanics, engineers, maintenance staff and traffic control.
Allowing journos into the most secret of test areas isn't usually allowed, but this rare occasion was made possible by Volvo on special request.
Aldeby doesn't look like your typical Swede: he isn't tall, have light hair, eyes or skin and when I learn that he was born in Iran his appearance suddenly made a lot more sense.
Unlike many test drivers at other car makers who at some point had racing ambitions Aldeby was once a taxi driver, then a limo chauffeur before eventually making the step up to test drive at Volvo Cars.
He's fulfilled this role for a decade and from conversations with him during my time at Hallered he has no intention of leaving anytime soon.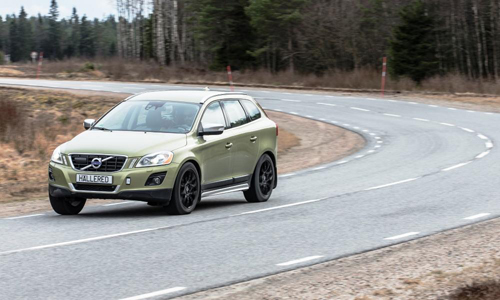 Most people think that being a test driver is simply about driving flat out all the time though this isn't really the case.
At Hallered driving teams work through the night to be able to fulfil the stringent requirements of tests. Over the course of the year each driver at Hallered covers about 100 000 km and that's just at the proving ground!
Aldeby does however state that one of the engine test procedures is to run a car flat out in top gear around the facility's high-speed oval track for twenty laps… so that is part of the job, too, just not ALL of the job.
Hallered was opened in 1973 and has since been the heart of the Swedish automaker's testing arenas. There are other proving grounds, such as the cold weather test facility near Jokkmokk in Lapland, or the one in the US, which is ideal for warm weather work.
Among the various tests conducted within the 700-hectare grounds include life expectancy, reliability, comfort and performance characteristics, and that's just on the vehicle side.
Any number of tests can be carried out in the laboratories from fuel analysis to hot and cold weather testing of components.
Within the grounds are all manner of labours that a car will endure within its lifecycle, not to mention several dozen that most wouldn't consider within the scope of normal usage.
Side slopes with "fallen" logs, rock gardens, paved sections with simulated, deep-set manholes, Belgian pave, steep inclines and declines of dirt and tar are all there for test drivers to thump test cars against.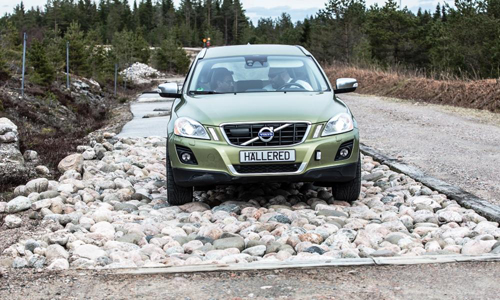 I felt a twinge of sympathy for the car that were travelling in on the day of my tour as Aldeby thumped over the various obstacles, but he assured me that in its 90 000-odd km, all of which were earned at Hallered, it's seen a LOT worse. Incidentally there wasn't the slightest creak or squeak to be heard in the cabin.
Not all 90 drivers are allowed to conduct the full spectrum of tests at Hallered. Even though they might ultimately be capable drivers, each needs to obtain specific licences for different levels of test procedures.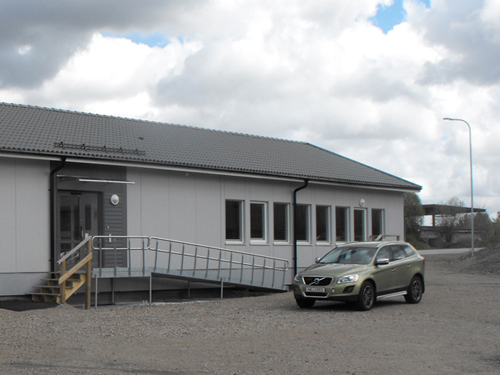 With a T1 grading you are only allowed to drive to a maximum 130 km/h within the grounds. Stepping up to T2, which entails a theoretical and driving exam, lifts the speed cap to 250 km/h.
T3 holders are allowed the full speed range and it is these highly skilled men and ladies that are certified to do chassis and handling testing. My driver for the day happens to be T3 accredited.
While most enthusiasts imagine that being a test driver is a glamourous occupation where you fling cars around racetracks al day, the reality is very different.
Aldeby has a 9-to-5 gig, like most others, that requires him to report to a boss every day. Though, if you have to choose from all the places you'd like your office to be, Hallered Proving Ground must be right up there with the best of them.

2008 – Volvo Cars Hällered Test Track (Youtube.com)

2010 – Top Secret Proving Ground: Hällered, Sweden (Youtube.com)

2010 – Hallered Volvo test ground in Sweden – Ground views (Youtube.com)
In April 2019, I was lucky to visit the Volvo Hällered Proving Ground together with Svenska Volvoklubben. This was the only photo that I could take, outside the complex.
After an introduction on the test track, we were able to join with a new road car the Volvo Hällered Proving Ground. It was a great experience!
More information at media.volvocars.com, carmag.co.za, lukeperkins.com and saabblog.net.