Volvo Photo Locations Part 404



Sockerbruket is located on Sjögatan in Helsingborg, Sweden. Today, it is the location of IKEA IT.
Helsingborg is a city and the seat of Helsingborg Municipality, Scania, Sweden. It has 113,816 inhabitants, making it the second-largest city in Skåne (after Malmö) and ninth-largest in Sweden. Helsingborg is the centre of the northern part of western Skåne and Sweden's closest point to Denmark: the Danish city Helsingør is clearly visible about 4 km to the west on the other side of the Øresund. The HH Ferry route across the sound has more than 70 car ferry departures from each harbour every day.
Historic Helsingborg, with its many old buildings, is a scenic coastal city. The buildings are a blend of old-style stone-built churches and a 600-year-old medieval fortress (Kärnan) in the city centre, and more modern commercial buildings. The streets vary from wide avenues to small alley-ways. Kullagatan, the main pedestrian shopping street in the city, was the first pedestrian shopping street in Sweden.
Helsingborg is a major regional centre of trade, transport and business. In 2001 Campus Helsingborg, a branch of University of Lund, opened in the former Tretorn rubber factory buildings, founded by Henry Dunker. Three ferry companies take people and cargo to and from Denmark around the clock. The route is popular with day-trippers going to Helsingør or Copenhagen, or simply enjoying the views from the ferries. IKEA, the retailer of furniture and home interiors, has its international corporate headquarters in Helsingborg. Nicorette, the nicotine chewing gum, has a manufacturing plant there. Ramlösa is a mineral water from Ramlösa Brunn, a southern suburb of the city. Mobile phone developer Spectronic is also situated in Helsingborg. The online custom clothing retailer Tailor Store Sweden AB has its offices in Helsingborg. Zoégas, a major coffee company, has been located here since the 1800s.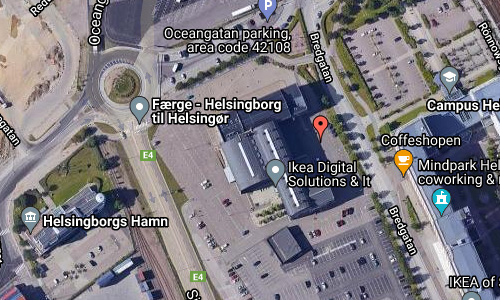 More information on en.wikipedia.org and kukkolaforsen.se.