Volvo Photo Locations Part 418



Sankt Sigfrids plan is a traffic hub in Örgryte in Göteborg, Sweden.
Sankt Sigfrid's plan is named after Västergötland 's patron Sankt Sigfrid. According to legend, in the 11th century he had the first Christian church built in the current Örgryte, which is said to have been on the same site as the current Örgryte old church right next to Sankt Sigfrid's plan.
The place, which is also called Sanktas, is about 130 x 70 meters large, and got its name in 1925 when it belonged to the district Bö. But already in connection with the Anniversary Exhibition in Gothenburg in 1923, the term Sankt Sigfrid's plan was used in the area. At the beginning of the 20th century, there was a larger pond (approximately the same area as Örgryte old church) on the site of the current grassy roundabout, about 50 meters southeast of the cemetery wall.
At the site, the streets Örgrytevägen, Danska vägen, Delsjövägen and Sankt Sigfridsgatan converge, as well as the smaller streets Santessonsgatan (tram only) and Olof Skötkonungsgatan. Along both sides of Santessonsgatan, Örgryte garden city spreads out, built in the 1920s. Sankt Sigfrid's plan is numbered clockwise 1-8.
According to the original city plan from 1923, the place was to be designed relatively urbanly, characterized by rows of trees and an arched residential building to the east. Of this, only the tree line along the cemetery wall, as well as the buildings between Delsjövägen and Sankt Sigfridsgatan, were carried out.
On Sankt Sigfrid's plan there is a small green area and a small wooden house that for many years housed a kiosk, Sankta kiosk, usually called Sanktas, but in the autumn of 2010 the premises became a fish shop instead.
In 1929, Göteborgs handelsbank built a villa on the eastern side of the site, in which a bank premises was housed on the ground floor. Today, SEB has the bank branch.
A 90 cm high bronze statue by Carl Milles, Genius, was placed in 1940 in the small park area next to the stop, but was stolen in the late autumn of 2001 after being submitted for repair. The statue is now in place again.
Sankt Sigfrid's plan has been sung by Madness and After Shave.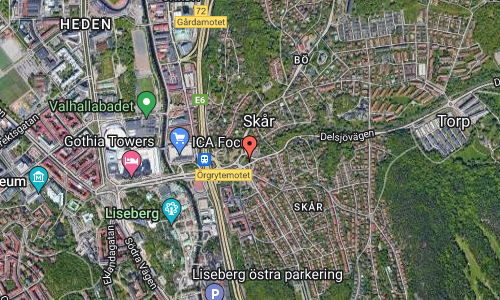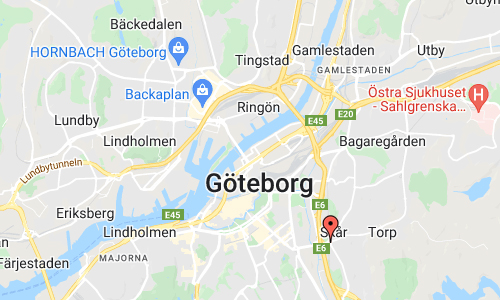 More information on sv.wikipedia.org.