International Volvo Photo Locations Part 515



Great photography for Volvo Cars magazine Edit by Patrik Olsson.
The Hanbok (Korean traditional dress) mural by Royyal Dog is located at the The Container Yard gallery on Seaton St in the Arts Distric, Los Angeles, USA.
Royyal Dog (Chris Changyang Shim, Korean: 심찬양, formerly Royal Dog), is a Korean graffiti writer and street artist. He is best known for his photorealistic murals of African American women in traditional Korean hanbok. Shim started gaining recognition in 2016 for his murals featuring rap icons and multiculturalism in the United States.
Shim studied cartoon animation at Chungkang College of Cultural Industries. Wanting to become a missionary to Africa, he began studies in 2011 at the International Evangelical College in the Philippines in Pastoral Studies, but left school in 2013 to pursue painting in Perth, Australia. He draws much of his inspiration from hip hop culture.
Other work from Royyal Dog:
"Flower Has Bloomed", 2016 – The Container Yard, Los Angeles, CA
Michelle Obama, 2019 – 74th Street and Chappel Avenue, Chicago, IL
Kobe Bryant tribute, 2020 – 400 S. Alameda Ave, Los Angeles, CA
Royyal Dog currently resides in Los Angeles with his wife and jindo/labrador retriever.
The Arts District is a neighborhood on the eastern edge of Downtown Los Angeles, California in the United States. The city community planning boundaries are Alameda Street on the west which blends into Little Tokyo, First Street on the north, the Los Angeles River to the east, and Violet Street on the south. Largely composed of industrial buildings dating from the early 20th century, the area has recently been revitalized, and its street scene slowly developed in the early the 21st century. New art galleries have increased recognition of the area amidst the entire downtown where other art museums are found.
In February 2020 the website la-artsdistrict.com was launched to highlight Arts District mural art and artists to the public. It includes a current map of the Arts District and professional photos of the mural artwork found here and in the surrounding downtown LA neighborhoods. The website also highlights local artists with art maps, interviews & photos specific to them.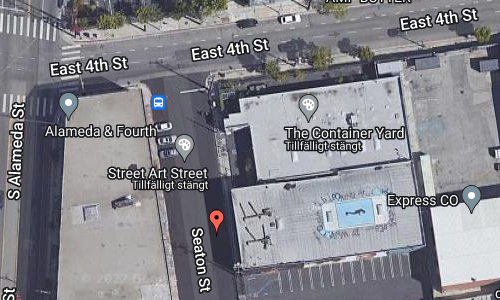 More information at en.wikipedia.org, volvocars.com and royyaldog.com.