International Volvo Photo Locations Part 516



Le Mans Raceway was a Track Ride built by US manufacturer Arrow Dynamics formerly located at Busch Gardens Williamsburg in Williamsburg, Virginia, USA.
Le Mans Raceway officially opened in 1975, along with the park. On June 30, 2006, Busch Gardens Williamsburg announced that Le Mans Raceway would be closing to make room for a new attraction set to open in 2007. Le Mans Raceway would officially close on July 5. Officials gave a loving sendoff to the ride, saying goodbye to the 49 recreated antique racing cars that had traveled nearly 10 million miles in 31 years. After its removal, it would be replaced by Griffon.
Le Mans Raceway, one of the park's original rides is located in the France section of the park. Since opening to the public in 1975, the ride has been popular with guests of all ages.
The cars, modeled after the 1913 Stutz Bearcat, have molded fiberglass bodies and were built on steel frames in California.
Each is powered by an eight horsepower gasoline engine that has been replaced approximately every five-years due to high ridership and the relative lifespan of a go-cart like engine.
The cars follow one of three 2,000-foot tracks, accumulating a total of nearly 200,000 miles per car since the park opened 31 years ago. The five-gallon fuel tanks are filled each morning and last for 12 hours of continuous driving.
"The mileage total for the entire fleet equates to nearly 400 trips around the Earth or 2600 excursions from New York to Paris," said Larry Giles, vice president of design and engineering for Busch Gardens Europe and Water Country USA.
Busch Gardens Williamsburg (formerly known as Busch Gardens Europe and Busch Gardens: The Old Country) is a 1.55 km2 amusement park located in James City County near Williamsburg, Virginia, United States. Located approximately 100 km northwest of Virginia Beach, the park was developed by Anheuser-Busch and is now owned by SeaWorld Parks & Entertainment. It opened on May 16, 1975, adjacent to Anheuser-Busch's brewery and near its other developments including the Kingsmill Resort complex.
The park is themed to a variety of European country themes and was originally named Busch Gardens: The Old Country.
In 1993, the park was renamed Busch Gardens Williamsburg, and it was briefly named Busch Gardens Europe from 2006–2008. In 2015, an estimated 2.78 million guests attended the park, ranking it twentieth in overall attendance among amusement parks in North America. In addition to its landscaping and European themes, Busch Gardens is widely known for its roller coasters, including Griffon, Loch Ness Monster, Alpengeist, and Apollo's Chariot, the latter of which was ranked as the fourth best steel coaster in the annual Golden Ticket Awards publication from Amusement Today in 2012.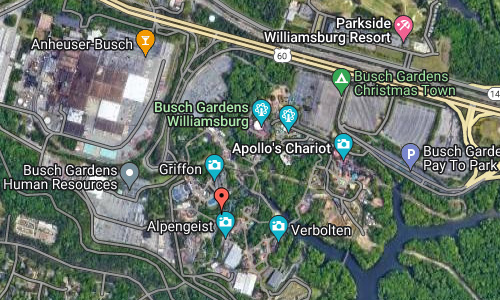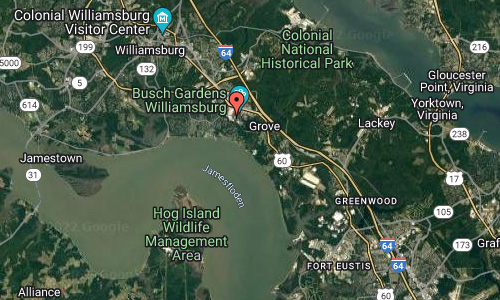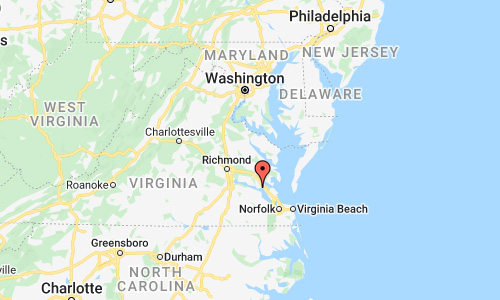 More information at en.wikipedia.org, buschgardens.com/williamsburg and themeparkbrochures.net.