Huub Rothengatter (born 8 October 1954, Bussum) is a former racing driver from the Netherlands.
He participated in 30 Formula One Grands Prix, debuting on 17 June 1984. He scored no championship points. He always drove for small and under-funded teams (Spirit, Osella and Zakspeed), and his drives all either started or became available midseason. He tried to get Dutch sponsors in various ways, such as by putting a one-page advertisement in "De Telegraaf" newspaper. Reputedly, when Niki Lauda was asked about him, he referred to him as "rattengott" – literally "God of the rats".
Rothengatter, unlike a lot of fringe drivers who waited for phone calls from F1 teams that never came, was highly successful in attracting personal sponsorship which allowed him to 'buy' his place in the low budget teams, bringing in much needed money to them and allowing him to drive F1 when he otherwise would most likely have missed out.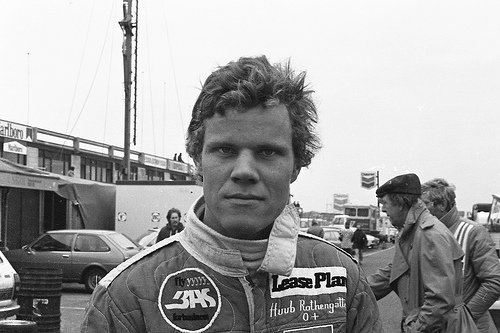 Rothengatter later entered into Formula One management, as a manager for Dutch driver Jos Verstappen.
Overview Dutch Formula One drivers:
Jan Flinterman (1952)
Dries van der Lof (1952)
Carel Godin de Beaufort (1957 – 1964)
Ben Pon (1962)
Rob Slotemaker* (1962)
Gijs van Lennep (1971 – 1975)
Roelof Wunderink (1975)
Boy Hayje (1976 – 1977)
Michael Bleekemolen (1977 – 1978)
Jan Lammers (1979 – 1992)
Huub Rothengatter (1984 – 1986)
Jos Verstappen (1994 – 2003)
Robert Doornbos (2004 – 2006)
Christijan Albers (2005 – 2007)
Giedo van der Garde (2008 – 2014)
Robin Frijns* (2013 – 2014)
Max Verstappen (2014 – …)
Nyck de Vries (2022 – …)