Volvo Photo Locations Part 333



Great photography for Volvo Cars by Lennart Ström!
Filmstaden Sergel is a cinema located on Hötorget and Sergelgatan in Stockholm city. The property is owned by the Stockholm City real estate office and the cinema section is rented by the cinema chain Filmstaden.
In 1995, Hötorgscity's facade towards Hötorget was built with Filmstaden Sergel with 14 salons (a total of 2,667 seats) and finally got the intended bright glass facade against Hötorget as architect Sven Markelius had originally planned. Markelius was responsible architect and city ​​planning director for the Norrmalms regulation between 1944 and 1954. His wish was to place the Stockholm City Theater here.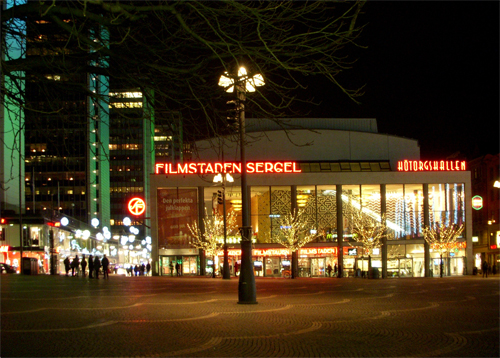 Filmstaden Sergel replaced the former cinema Filmstaden, which had been located at Mäster Samuelsgatan from 1980. The current cinema has its name after the former single cinema and the theater theater Sergelteater in the same place, which in turn was named after the sculptor Johan Tobias Sergel (1740-1814), which had its studio at Sergelgatan 1. The original Sergelteater from 1959 is today the complex's large salon, rebuilt with increased comfort and improved acoustics, while retaining the 1950s feeling.
Filmstaden Sergel was designed by architect Per Kallstenius with interior decoration by Birgitte Baadsgaard and was inaugurated on November 3, 1995. In the basement rooms below the cinema there is the Hötorgshallen and a parking garage.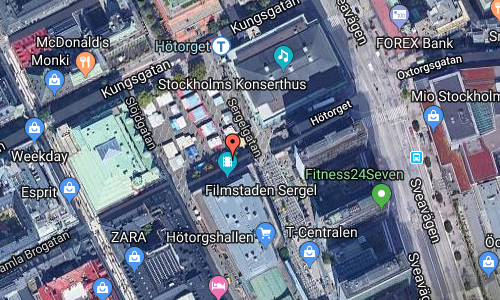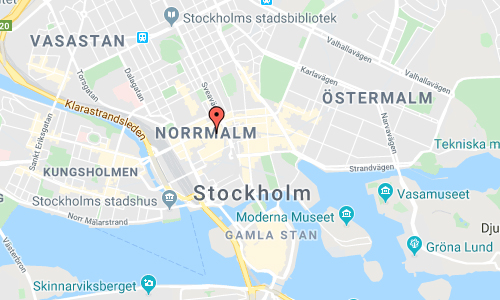 More information at sv.wikipedia.org and filmstaden.se.